Shop
Welcome to our online shop!
Welcome to the online shop of the Ffestiniog and Welsh Highland Railways. Every penny we make from this shop and from our shops on the railway themselves goes to help build and maintain our world famous, much loved railways.
Christmas Shopping
The latest batch of Bachmann Baldwins have arrived with perfect timing for Christmas - see individual photos for details. They're available online, in store at Harbour Station and over the phone.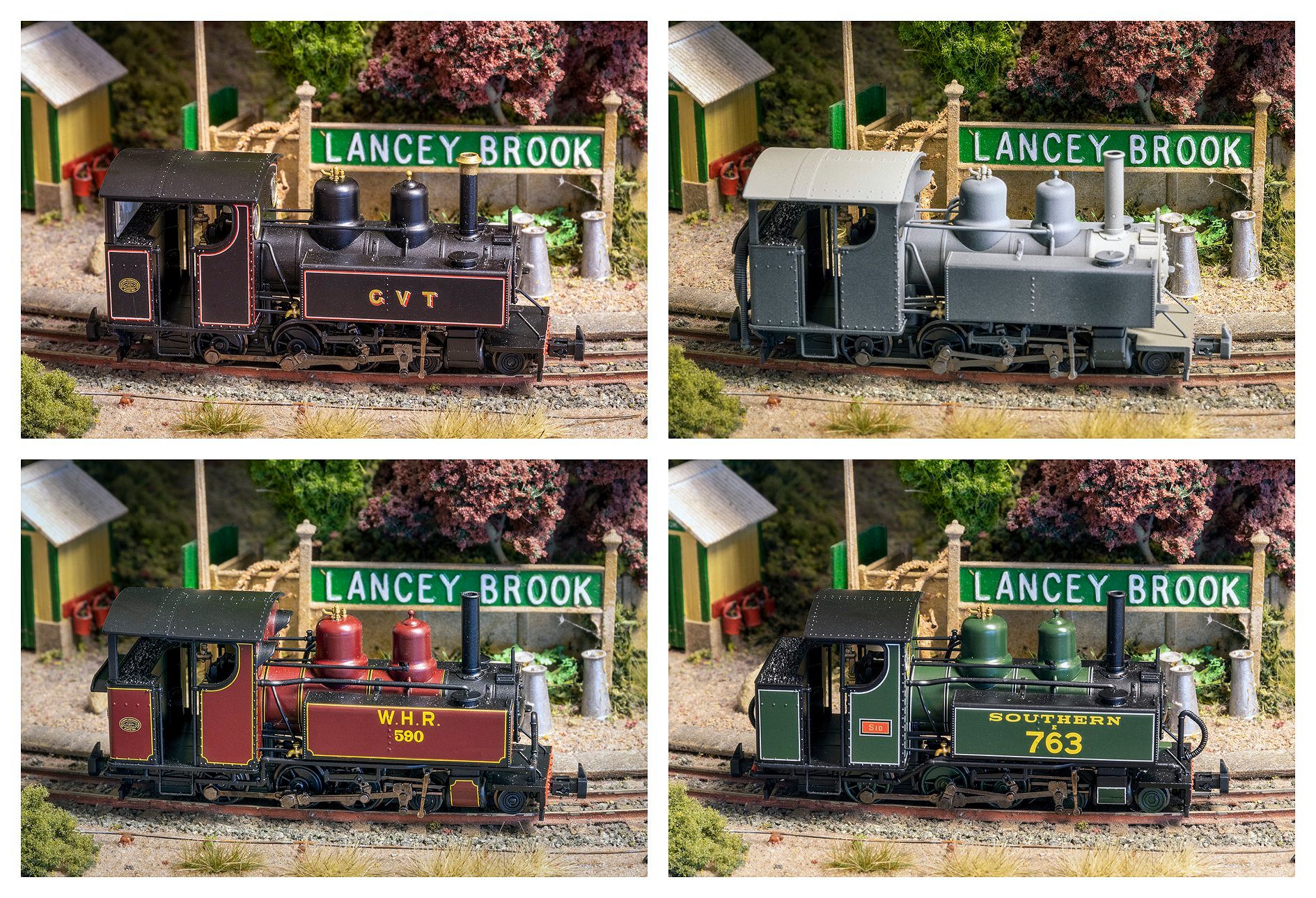 As well as our regular offer of Christmas Cards and Calendars, we sell a full range of gifts and souvenirs to please the entire family at this festive time. We can even supply postage stamps to send those cards to friends and loved ones. For the modeller we have a superb range of 009 ready-to-run rolling stock and kits. Our book selection is varied and includes a number of titles that are heavily discounted, often beating Amazon on price!
Don't forget that if you've visited us in person this year and noticed something in our shops that is not on our website, please do call us as we may well be able to send it by post - Call us on 01766 516034 between 0915 and 1645 daily.
A Year in the Life of the F&WHR - 2019 is now on sale.
It features 5 hours and 20 minutes of footage, including previously unseen material. It comes as a set of five DVDs or a single BluRay - Both have identical programmes. Both cost £25.00 plus p&p.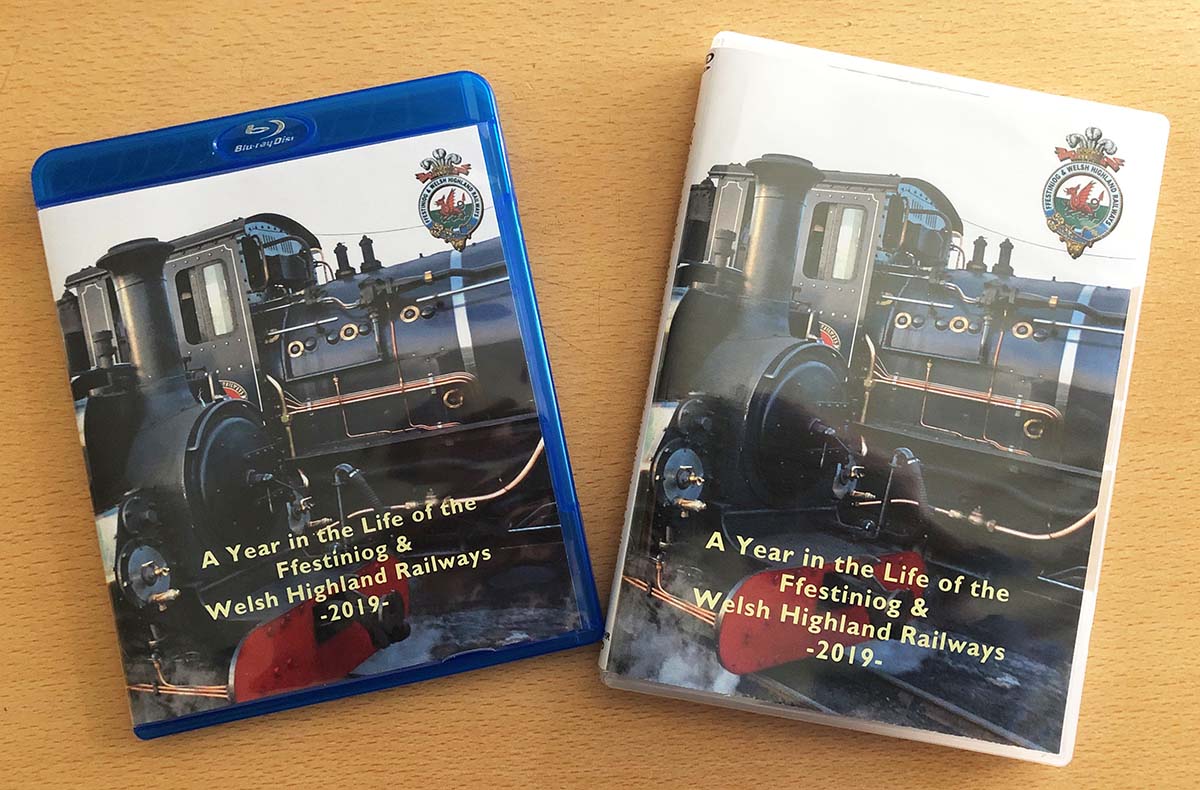 Our top-selling books available to order now!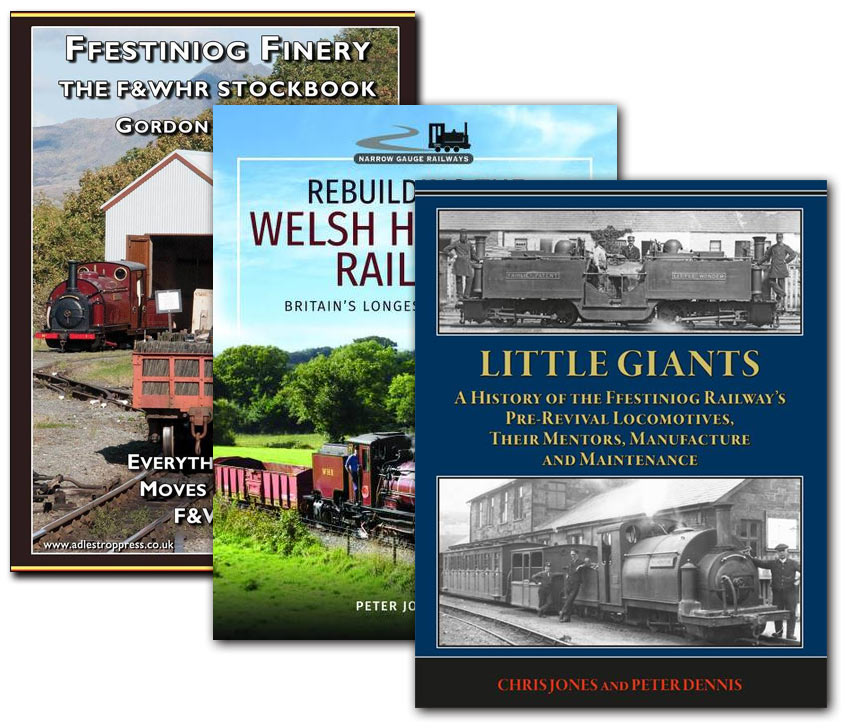 Ffestiniog Finery - The F&WHR Stockbook - Everything that Moves on the F&WHR

This well illustrated 336-page volume offers access to the locomotives and rolling stock fleet, with historical explanations that many are unaware of, as well as a clue as to how things work, how they are used and a glimpse into the policy that is applied to them.

Containing drawings and maps to explain things this book will be an essential addition to any current or future F&WHR enthusiast!
Click here to buy.

---

Rebuilding The Welsh Highland Railway

THE REVIVAL AND RESTORATION of the Welsh Highland Railway is one of the greatest heritage railway achievements of the 21st Century, yet its success followed more than one hundred years of failure. Supported by public loans, its first incarnation combined the moribund North Wales Narrow Gauge Railways, some of the abandoned works of the Portmadoc, Beddgelert & South Snowdon Railway and part of the horse-worked Croesor Tramway. Opened in 1923, it was closed in 1937 and the track was lifted in 1941. Serious talk of revival started in the 1960s but restoration did not start until 1997, with the neighbouring Ffestiniog Railway at the helm, supported by generous donors and benefactors, the Millennium Commission, the Welsh Government and teams of enthusiastic volunteers. Author Peter Johnson steers a course through the railway s complicated pre-history before describing the events, including a court hearing, three public inquiries and a great deal of controversy, leading to the start of services between Caernarfon and Porthmadog in 2011. A postscript describes post-completion developments.

Click here to buy.

---

Little Giants: A History of the Ffestiniog Railway's Pre-Revival Locomotives - Their Mentors, Manufacture and Maintenance

This new study of the Ffestiniog Railway's locomotives takes advantage of on-line newspaper records and the recent cataloguing of the Ffestiniog's own archives to produce an authoritative record of not only the technical evolution of the engines but also the lives and interactions of the colourful characters involved with them. Access to the railway's vast collection of photographs, documents, letters and drawings has enabled a highly detailed picture of the history to be drawn. Many of these records are included in the text to help tell the locomotives' story and that of the social history surrounding their evolution and operation. Covered for the first time is the 'business networking' of Victorian railway engineers and its role in the development of the locomotives and their influence on many other lines worldwide. Archive research has also been used to shed light on the lives of those who worked on the footplate. The railway was extensively photographed and this book reproduces the best of those images at a large size, commensurate with their quality.

The book covers the period of operation from the earliest horse-drawn days until temporary closure in 1946. This has been done in strictly chronological order, allowing the reader to see when and why key decisions were made. The railway's extensive locomotive maintenance records have been exploited to give a more detailed picture than has previously been published, illustrating the engines' development, operation and decline over the period. The authors are both long-term volunteers on the railway and members of the Ffestiniog Railway Heritage Group. Peter was also on the permanent staff for fifteen years.

Click here to buy.
---
With all these and many more products to choose from I hope you will agree that we have something for everyone with a narrow minded interest.
Thanks/Diolch yn Fawr
Here is a guide to the sizes of the clothing available from us - Slight variations can occur
Small - 37 inch 92.5 cm
Medium - 40 inch 100 cm
Large - 42 inch 105 cm
XLarge - 44inch 110 cm
XXLarge - 47 inch 117.5cm
We accept the following payment methods: