Book a rail holiday with Ffestiniog Travel and support us and our future
As a sister company to the Ffestiniog & Welsh Highland Railways, profits made from Ffestiniog Travel's rail holidays are used for the continued preservation of the FR and WHR so by booking a rail tour or a train ticket through Ffestiniog Travel you are supporting us and our future.
The rail tour operator has experienced a challenging time during the COVID-19 crisis like most travel and tourism businesses, but it remains optimistic and is looking forward to escorting rail travellers again soon.  During the pandemic the company was forced to cancel most of its escorted tours for 2020, but were able to fully refund all its customers very quickly and provide helpful travel advice.  Its customer service was applauded in the national press and Which? Travel Magazine.  Ffestiniog Travel was recently named runners up and 'Highly Commended' for Best Rail Holiday Company in the Silver Travel Adviser Awards 2020, missing out to a much bigger competitor.  These awards were voted for by the customers so confirmed that the company's actions were appreciated by its travellers.
The rail tour operator is also nominated in the 2020 British Travel Awards for Best (Small) Rail Holiday Company. Please show your support for the travel company by clicking the button and casting your vote before the end of November. By voting you could win a cruise holiday and help raise funds for the NHS. It is also an opportunity to reward those travel companies who did the right thing during the COVID crisis.
Ffestiniog Travel's 'Rail Holidays of the World' brochure 2021 has been launched featuring up to 45 wonderful train tours to choose from. To obtain a printed copy click here. All the tours can also be viewed on the website. Below are just a few examples of the rail holidays running next year.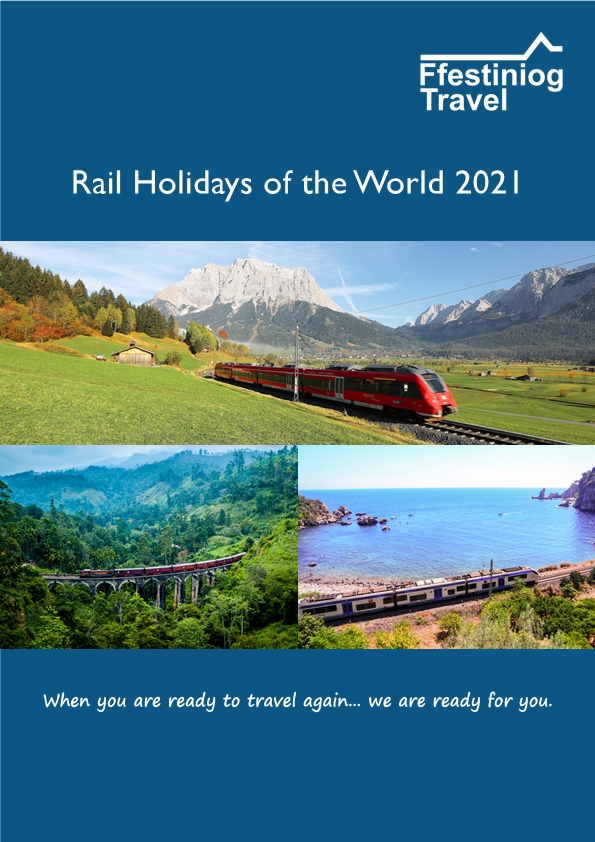 Escorted Rail Tours
February 2021 – Snow on the Alps
February 2021 – Canada in the Snow
April 2021 – Dresden Steam Festival
April 2021 – Mallorca Narrow Gauge
April 2021 – Trams & Trains of Italy
April 2021 – Uzbekistan & the Silk Road
May 2021 – Albanian Odyssey
May 2021 – Romania's Danube Delta
June 2021 – Harz Explorer
June 2021 – Trams & Trains of Portugal
June 2021 – The Far West of Ireland
June 2021 – Behind the Scenes in Central Europe
June 2021 – Swiss Lakes & Mountains
June 2021 – The Best of Colorado
Call: 01766 512400
Email: info@ffestiniogtravel.co.uk
Visit: www.ffestiniogtravel.com
Tailor Made Tours
If you have a dream rail journey you have always wanted to take why not check out Ffestiniog Travel's Tailor Made holidays. Ffestiniog Travel can create a bespoke tour for you or a group of friends based around your requirements. Remember where possible they can also adapt their escorted tours to devise the same or a similar tour to suit your requests and arrange departure on a date convenient to you.
Book your train tickets with Ffestiniog Travel

Ffestiniog Travel can provide tickets for UK journeys, Eurostar, European train travel and many destinations worldwide. Myrailtrip.co.uk is the home of Ffestiniog Travel's ticketing department. They are also able to supply Interrail passes covering the whole of Europe, Inter Rail Global Pass, or just for one country, Inter Rail One Country Pass. Also Swiss rail passes, Benelux Tourrail passes, Japanese Passes and many many more.

Their skilled and specialist travel consultants will advise and select the right tickets for your trip. They will use their experience and specialist knowledge to work out the most convenient route for your needs and to book the most appropriate tickets for your journey.
Keep up to date with all FT's news on Facebook and Twitter, or subscribe to our regular newsletter.