There are now only 10 days to go until the 2022 World Cup kicks off in Qatar and we're delighted to announce that Spooner's will be taking part in the Gŵyl Cymru Festival!
Gŵyl Cymru Festival, will be a minimum, 10-day creative event, which will bring communities together as part of the nation's support for Cymru during their FIFA World Cup 2022 campaign in Qatar.
Communities, football clubs, arts organisations and venues have been invited to curate their own programme of events, workshops and performances to become part of the ambitious creative festival.
Here at Spooner's, we will be showing a selection of live matches throughout the tournament, including all of Wales' matches, offering special food and drink offers and a special display highlighting the Railway's long association with local football club, Porthmadog FC, and some competitions.
We are looking forward to amplifying and unifying the wealth of arts, music and events created for the World Cup – in turn, being part of something bigger.
Together Stronger.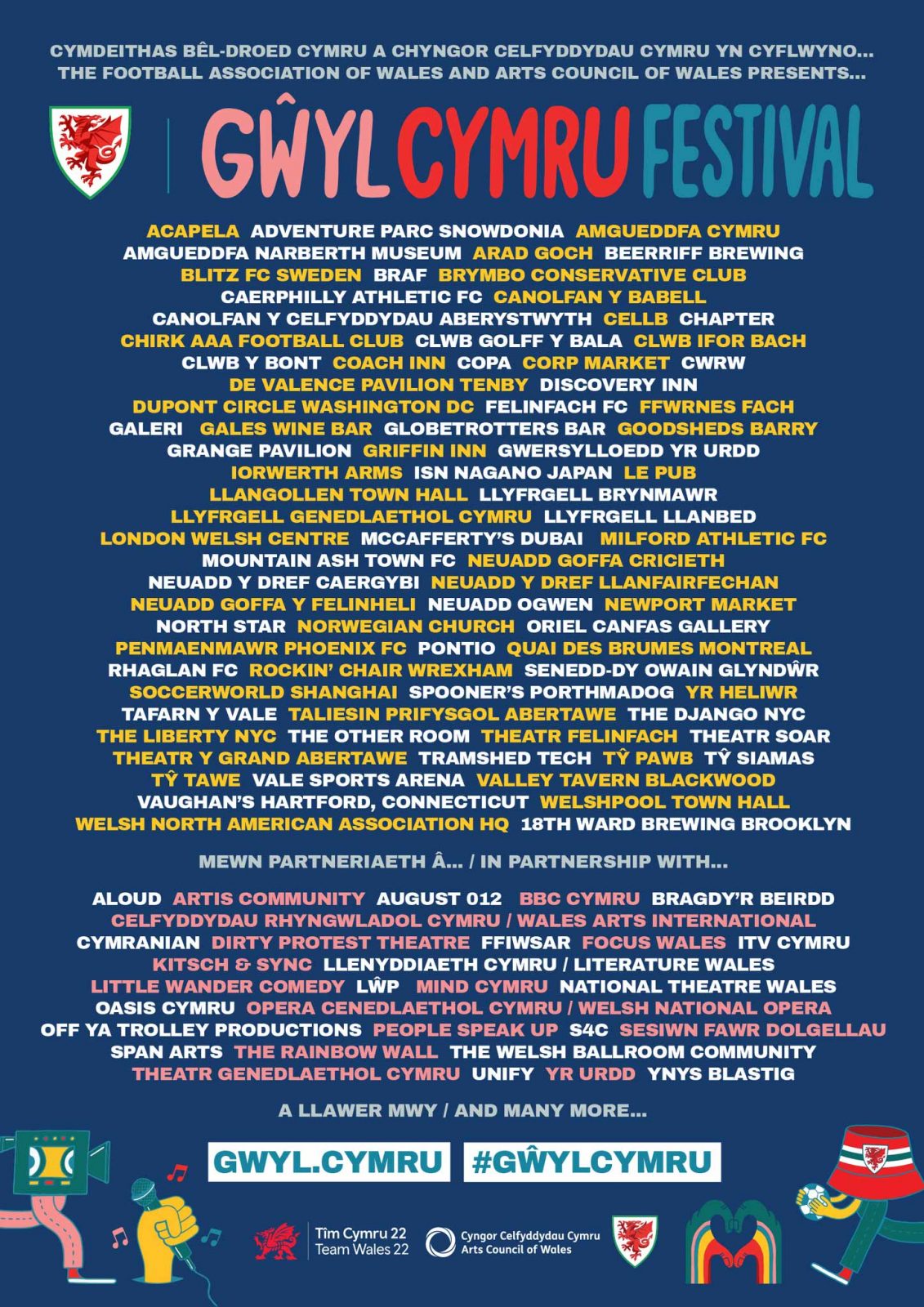 Dim ond 10 diwrnod sydd i fynd nes bydd Cwpan y Byd 2022 yn cychwyn yn Qatar ac rydym yn falch iawn o gyhoeddi y bydd Spooner's yn cymryd rhan yng Ngŵyl Cymru Festival!
Bydd Gŵyl Cymru yn ddigwyddiad creadigol o leiaf 10 diwrnod, a fydd yn dod â chymunedau ynghyd fel rhan o gefnogaeth y genedl i Gymru yn ystod eu hymgyrch Cwpan y Byd FIFA 2022 yn Qatar.
Mae cymunedau, clybiau pêl-droed, sefydliadau celfyddydol a lleoliadau wedi'u gwahodd i drefnu rhaglen o ddigwyddiadau, gweithdai a pherfformiadau a dod yn rhan o'r ŵyl greadigol hon.
Yma yn Spooner's, byddwn yn dangos detholiad o gemau byw drwy gydol y twrnamaint, gan gynnwys holl gemau Cymru, cynigion bwyd a diod arbennig ac arddangosfa arbennig i gysylltiad hir y Rheilffordd â'n clwb pêl-droed lleol, CPD Porthmadog, ac rhai cystadlaethau.
Rydym yn edrych ymlaen at amlygu'r cyfoeth o gelf, cerddoriaeth a digwyddiadau sy'n cael eu creu ar gyfer Cwpan y Byd – ac if od yn rhan o rywbeth mwy.
Gyda'n gilydd yn gryfach.