Rolling back the mists... Rolling back the years...
Travel back in time and discover what trains were like in Victorian times, the Roaring Twenties or the Swinging Sixties…
Our Heritage carriages are once again coming to the fore, much like they did in the 1960s, as we run our reopening Heritage Service on the Ffestiniog Railway between Porthmadog and Tan y Bwlch.
The priority has been to create a service that maintains the safety of our visitors, staff and volunteers. This has been of the utmost importance and we believe the new service is as safe as possible during these troubling times.
Detailed information is provided below and our comprehensive FAQ page is available here.

Limited Service
Our Heritage service will operate on the Ffestiniog Railway – from Porthmadog to Tan-y-Bwlch.
Please note these services start and finish at Porthmadog – these trains do not go through to Blaenau Ffestiniog.
This new service will run daily, with six round-trips on most days, departing from Harbour Station at 10:00, 11:05, 12:10, 13:15, 14:20 and 15:25.
Please note, on some days, all six services may not be operational, check our timetables for full details.
The total journey time will be approximately 2 hours 45 minutes, including a one-hour layover at Tan-y-Bwlch.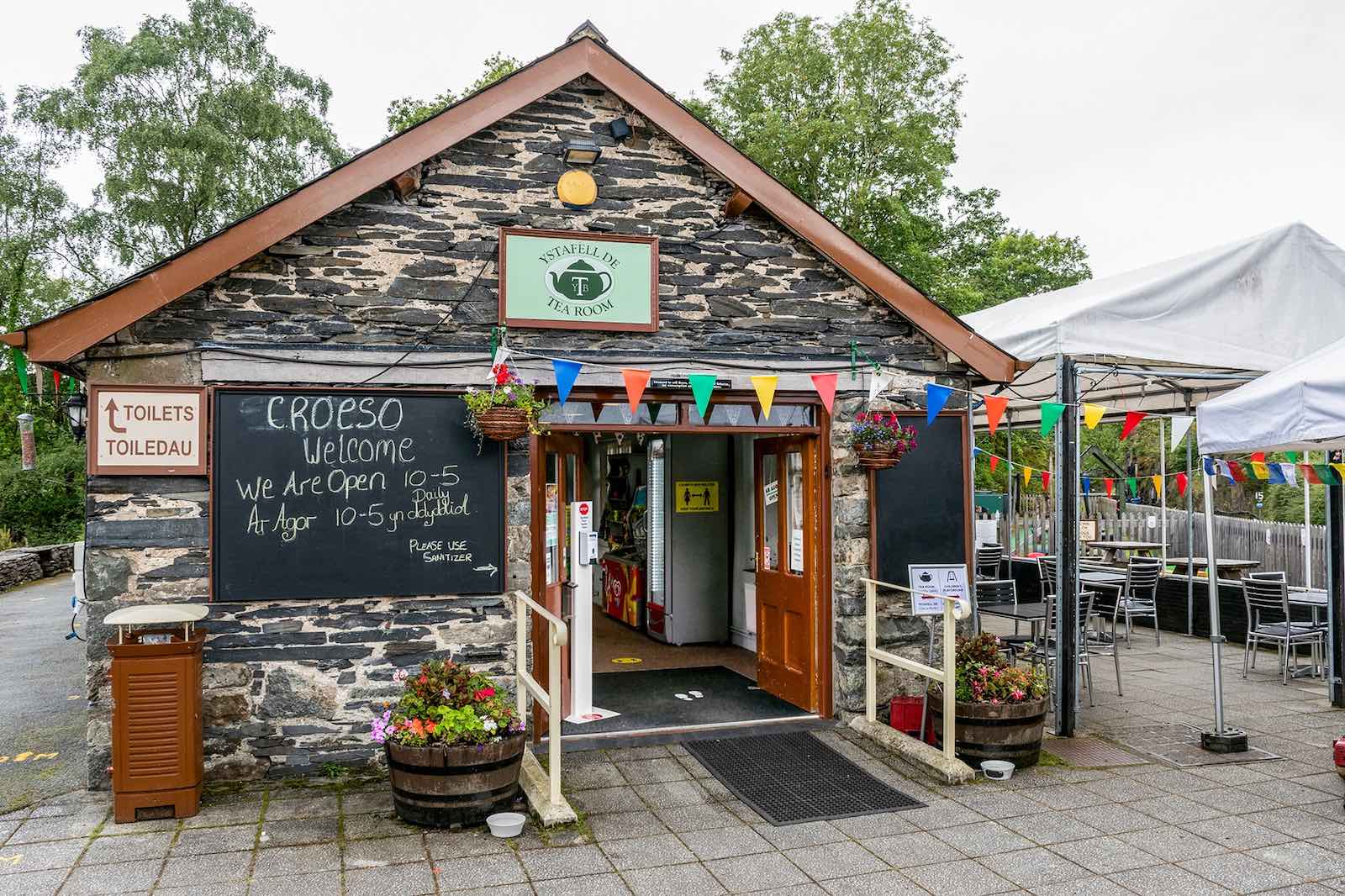 Tickets must be booked in advance (see below). Passengers cannot join (or alight from) trains at any other station, halt or request stop.
Online Booking Only
Tickets will only be available via online booking and cannot be purchased at our Booking Office.
Tickets are currently available to book until the 30th September.
The individual compartments in our heritage carriages will help to maintain social distancing on the train. Each compartment seats up to 6 passengers, and additional dividers have been installed between seating bays.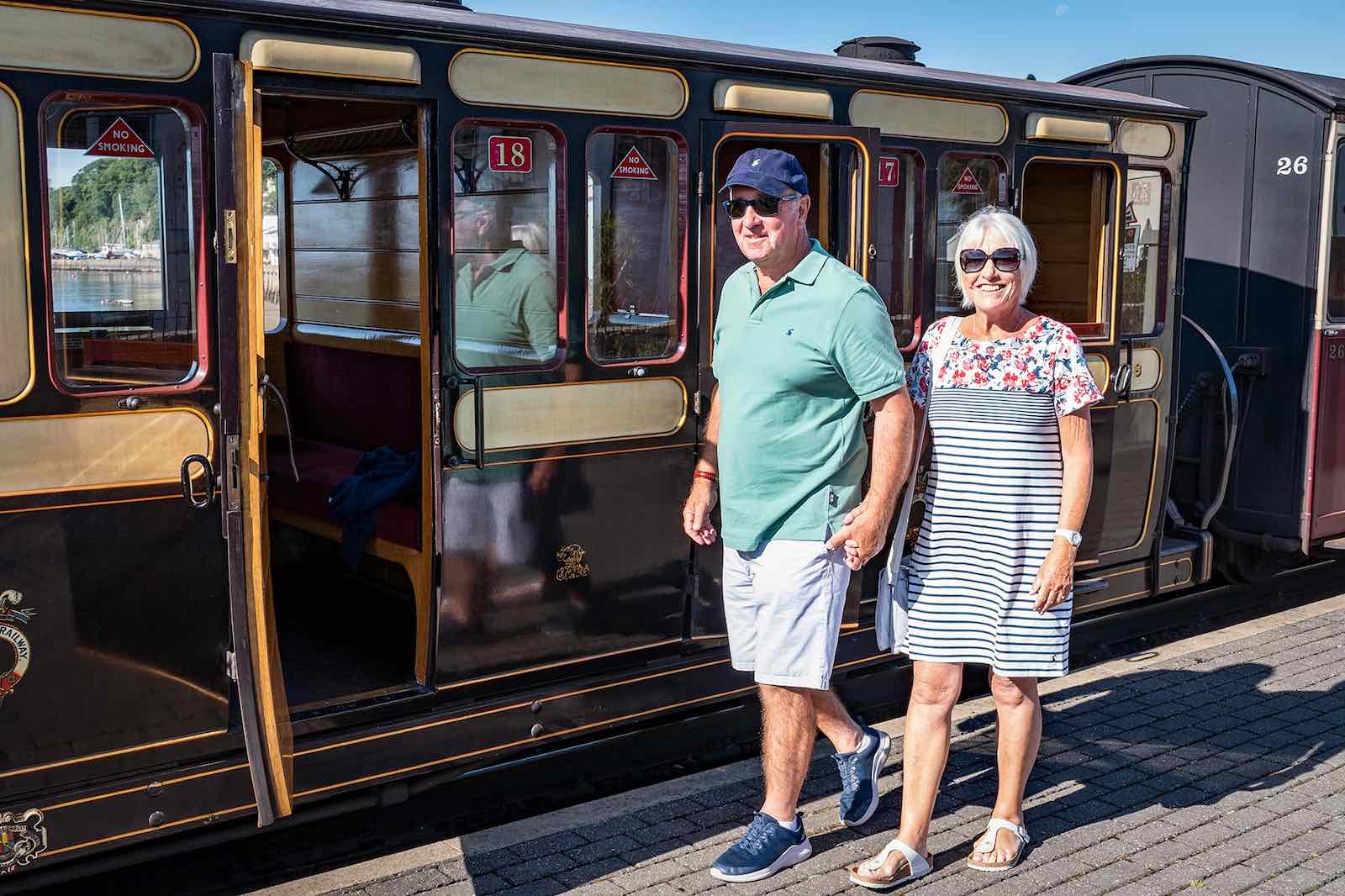 Ticket prices start from £50 per compartment, which includes the fare for 2 adults. Tickets for each additional adult cost £25, while the fare for each child will be £1. Child tickets are for those 15 years or younger, those aged 16 year or older will qualify as an adult ticket. NOTE: there is a maximum of 6 people per compartment.
If you are a solo traveller, you must still pay the £50 fare for the compartment.
Tickets will be sent via email and must be presented to the Station Host or Train Guard for inspection prior to boarding the train. Alternatively, if you prefer, you can print the tickets at home and bring them with you to the station.
The tickets will display your details and the number of travellers. They will not include any details of seat numbers or carriage compartments, which you will be free to choose upon arrival.
Safety Measures at the Stations
Upon arrival at Harbour Station, routes into, through and out of the station will be clearly signed. It is important that all visitors adhere to these routes, while also maintaining social distancing.
NOTE: there will be no catering service on these trains.
There will be two routes to the trains – one through the Booking Hall direct to the platform and one through Spooner's for those wishing to order takeaway refreshments prior to their journey.
Harbour Station shop will be open.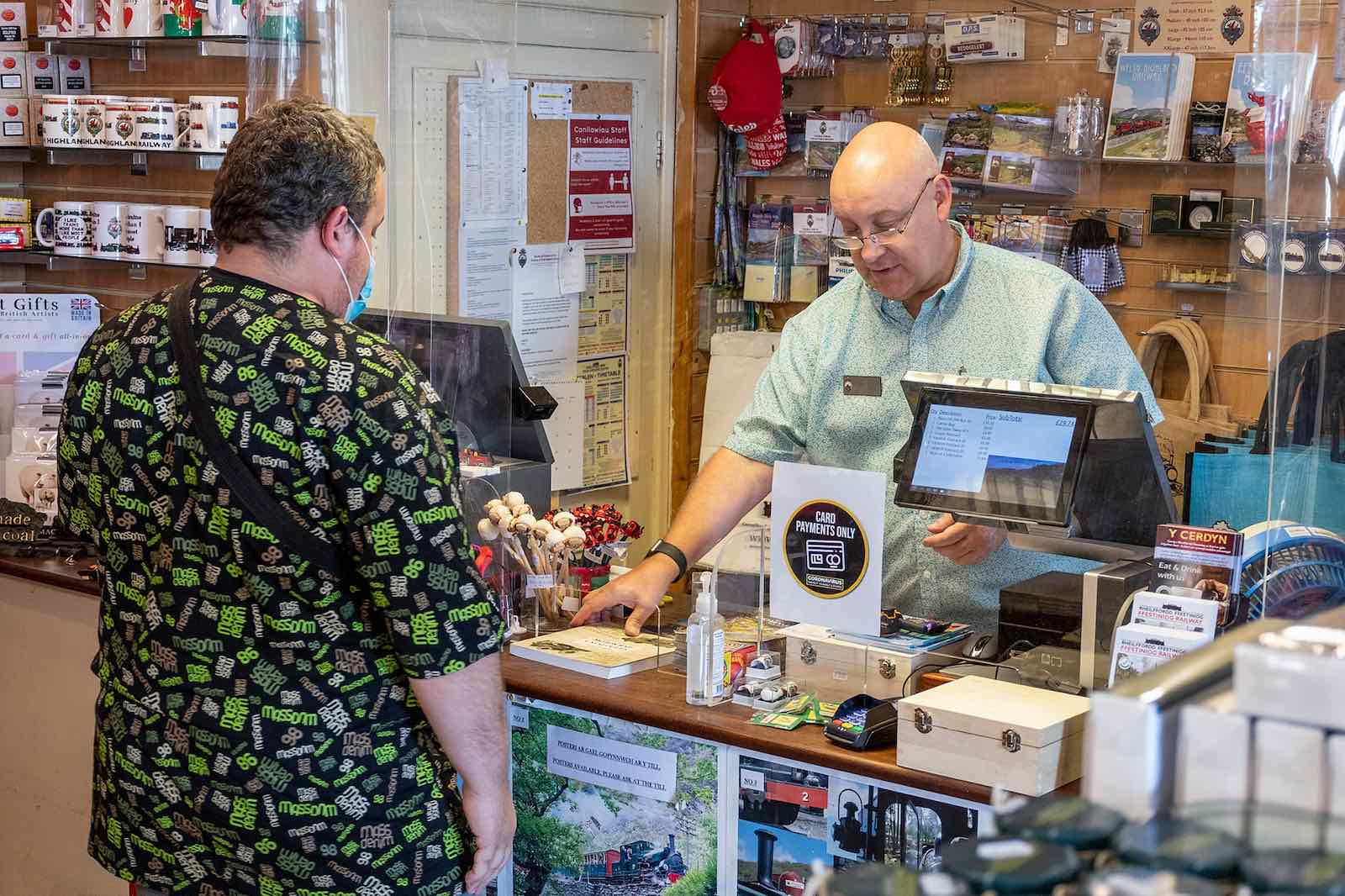 Visitors are asked to use 'contactless' card payments whenever possible.
We are also encouraging visitors to wear face coverings during their visit. Complimentary masks will be available at Harbour Station if you do not have your own.
Hand sanitiser stations will be provided on platforms. We advise passengers to use these prior to boarding the trains to reduce potential contamination.
Social Distancing signs will be in place to manage queues for the toilet facilities at both stations.
Tan-y-Bwlch Café will be open to passengers and the general public, offering food and drinks from a limited menu – which can be taken on board for the journey, or enjoyed in the café or outdoor seating area.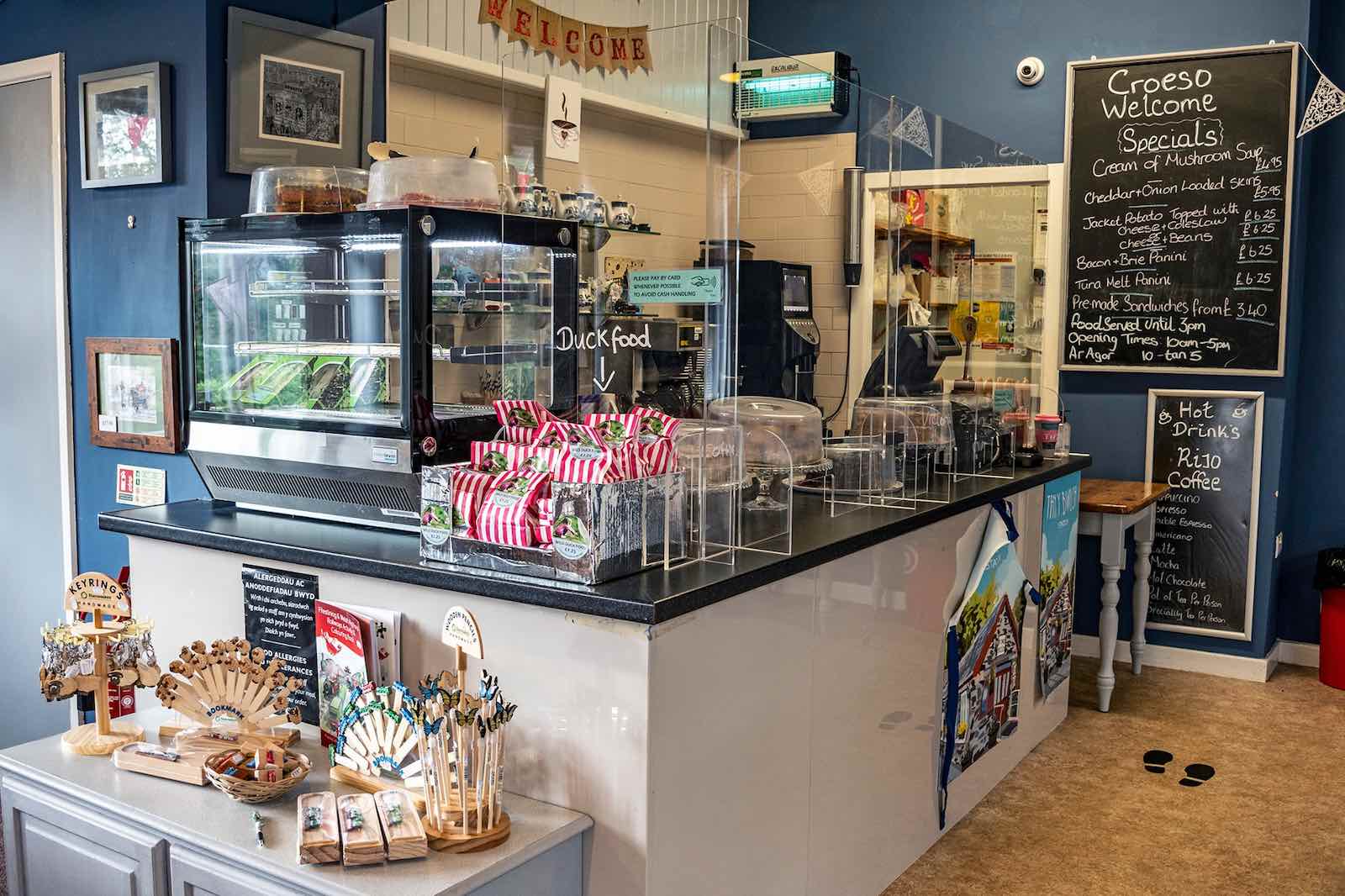 There will be a one-way route through Tan-y-Bwlch Café in order to safely manage the flow of visitors and plenty of outdoor seating available throughout the station area.
Safety Measures on board the trains
Our carriages will be regularly deep-cleaned using 'Zoono', a long-lasting disinfectant surface sanitiser which offers up to 30 days of protection.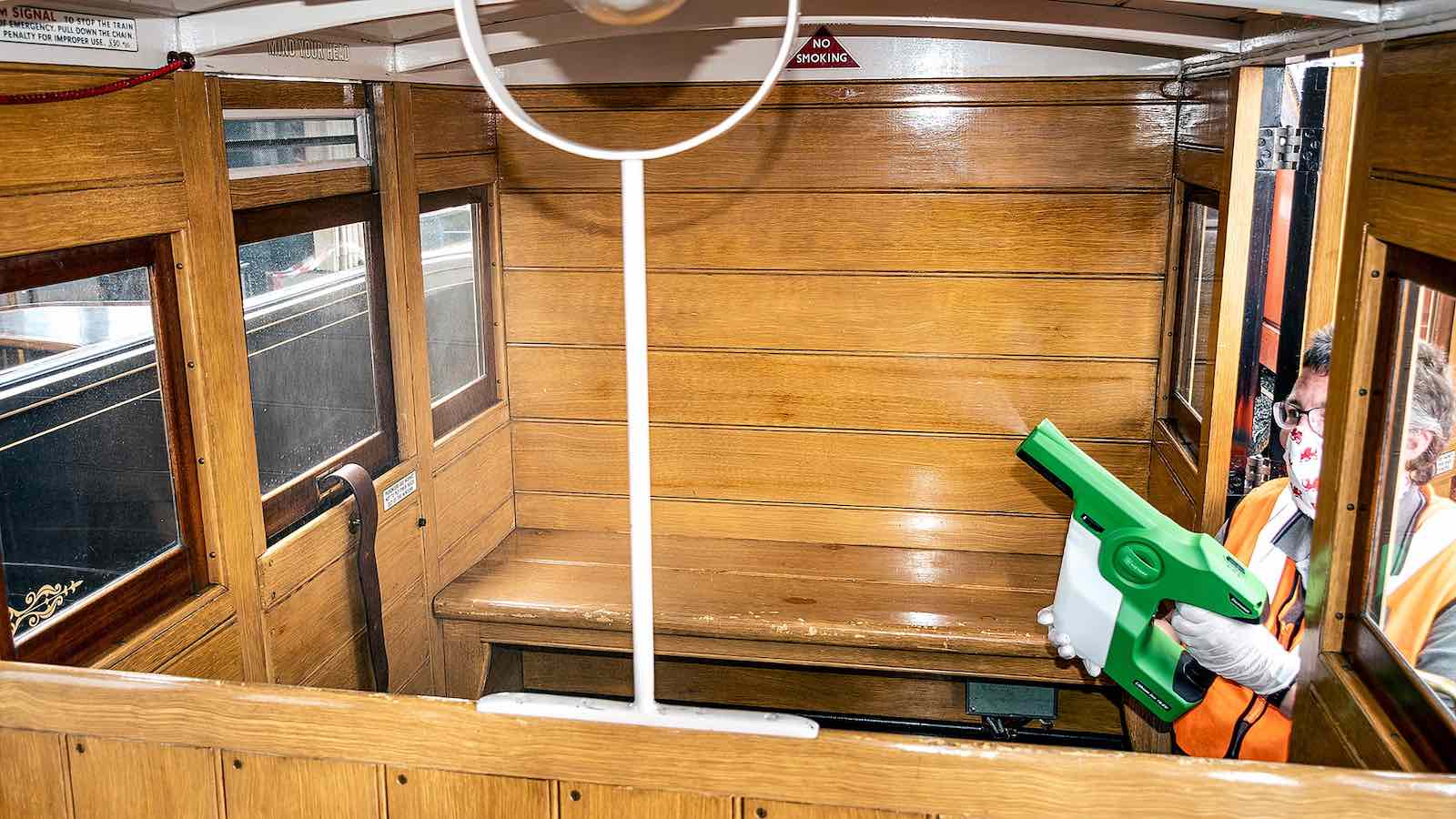 We will be using three sets of heritage carriages, which contain separated compartments, helping to maintain social distancing on the train.
Each compartment will be numbered, with visitors able to choose their compartment before boarding the train. Passengers must use their chosen compartment for the duration of the return journey.
All carriages will be cleaned by our staff between each departure, ensuring the compartments will be safe and ready for you to enjoy upon arrival.
Loyalty Cards and Gift Vouchers
Due to the financial difficulties caused by the Covid-19 pandemic, we are regrettably unable to offer loyalty card discounts on our train services at this moment in time.
All holders of 'Y Cerdyn' will receive a 6-month extension to their scheme as a result of this decision.
Please note both 'Y Cerdyn' and the 'Eat and Drink' card can still be used for discounts in our catering outlets.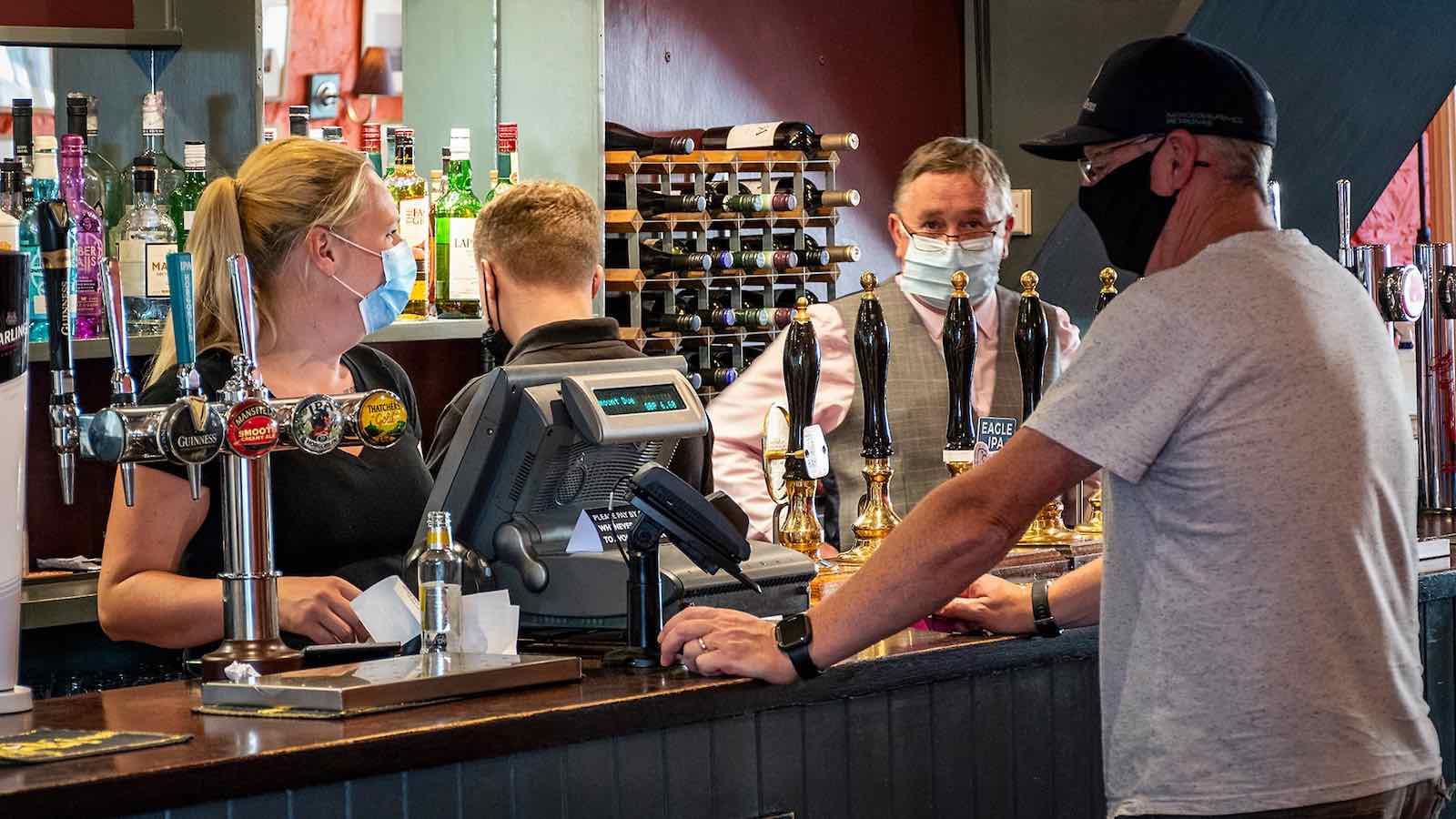 Gift card holders will be unable to apply their discount when booking online. However, they can activate their gift card by calling our Booking Office on 01766 516024.
Society members (FRS and WHRS) can reserve tickets by calling our Booking Office; 01766 516024. However, please note members can only use their membership cards for travel on the weekend.
Holders of Rail Staff Travel can purchase discounted tickets by calling our Booking Office.
2020 Timetable Leaflets
We are aware that a large amount of our 2020 printed timetable leaflets are still in circulation.
Due to current circumstances we must ask that you ignore its contents as the timetables are now void and we ask you to use our website for the latest information.
Special Event listings in the leaflets are under continuous review and, while many have unfortunately been cancelled, future events are being monitored in accordance with Welsh Government advice.
We will make announcements on these events shortly.
A warm welcome awaits you all once more.
*Please note that ongoing train services will be subject to any further changes in UK Government policy in response to the Covid-19 situation.
Please also see our reopening FAQ