Boston Lodge Works
The world's oldest railway workshop
Boston Lodge is the engineering works of the Ffestiniog & Welsh Highland Railways. The present workforce is continuing a long established tradition of innovation and quality stretching back more than 150 years. The works is recognised by the Guinness Book of World Records as the oldest in the world and is unique in having built steam locomotives in the 19th, 20th and 21st centuries. The first, Double Fairlie Merddin Emrys, was built in 1879 and is still in daily use today.
Sixty years of preservation work have resulted in a wide range of expertise in the field of engineering at Boston Lodge. Heritage locomotives and carriages can be restored and repaired on site and we also regularly produce new locomotives and stock.
In 2001 we completed the restoration of the first two iron-framed carriages built for use in the UK. This gave us the inspiration accurately to replicate the colourful trains of the Ffestiniog Railway's past. One carriage rake has been completed in 1930s livery and another has been finished to emulate the elaborate livery used in 1878, including gold leaf lining.
Since then we have expanded our Carriage Works in order to sustain this high quality craftsmanship and encourage its further development. All new Ffestiniog and Welsh Highland carriages are built, fitted out and maintained at Boston Lodge.
Our expertise in the field of railway engineering is renowned among heritage railways who frequently commission work from us. London Underground Museum selected Boston Lodge to restore its Jubilee carriage, Met 353, from a garden shed to as-new condition for its 150th anniversary in 2013. We have built three underframes for the Lynton and Barnstaple Railway in North Devon and rebuilt steam loco Isaac for use on the same line.
Past projects include two vehicles designed and constructed to replicate Darjeeling Himalayan Railway examples and the construction of three replica Pickering carriages for the Welshpool & Llanfair Light Railway.
We have also designed and constructed a carriage based on the concept of the Sandy River & Rangeley Lakes Railroad parlor car. This entailed modifying the original design to suit the customer's specifications - including the addition of a fully fitted kitchen.
Apart from the high profile launch of replica Manning, Wardle Steam locomotive Lyd in 2010, we also maintain and build other locomotives. We are particularly proud of the fact that we have built the new boiler for resident Hunslet 0-4-0ST Lilla ourselves. Our well-equipped machine shops and highly trained staff ensure the vast majority of our work is carried out in-house.
Our more unusual projects include the construction of a replica wooden footbridge for Tan y Bwlch station and the restoration of a double deck Glasgow tram. Our engineers are carrying on a great tradition of continual improvement to get the best out of our locomotives, as evidenced by the design of a single casting to replace the three used previously on each Fairlie power bogie.
For more detailed information, contact Works Manager Tony Williams:
Email: twilliams@ffwhr.com
Phone: 01766 512850.
Please also view the Boston Lodge Portfolio: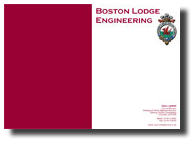 View Online